Thank your for a great first day! If you pick up your child in a car at the end of the day could you please write your child's name on a large piece of paper and hold it up to the window. We want to improve our process for pick up and keep your children safe. Have a great night.
Good morning, The Schoology website is experiencing issues. This a district wide issue that the tech department is working. I will post an update once it is up and running again. Ms. Robinson
Hello Pat Ham! Below are instructions for you and your student(s) on the first day of school. Please look carefully as there are directions for logging on through the school provided Chromebook and a personal computer. You can practice logging immediately, however the page will be blank until Tuesday, September 8th. On Tuesday the courses and announcement will post. School is scheduled to begin at 9 am for all Pat Ham distance learning students. Have a great weekend and we will see you all Tuesday at 9 am!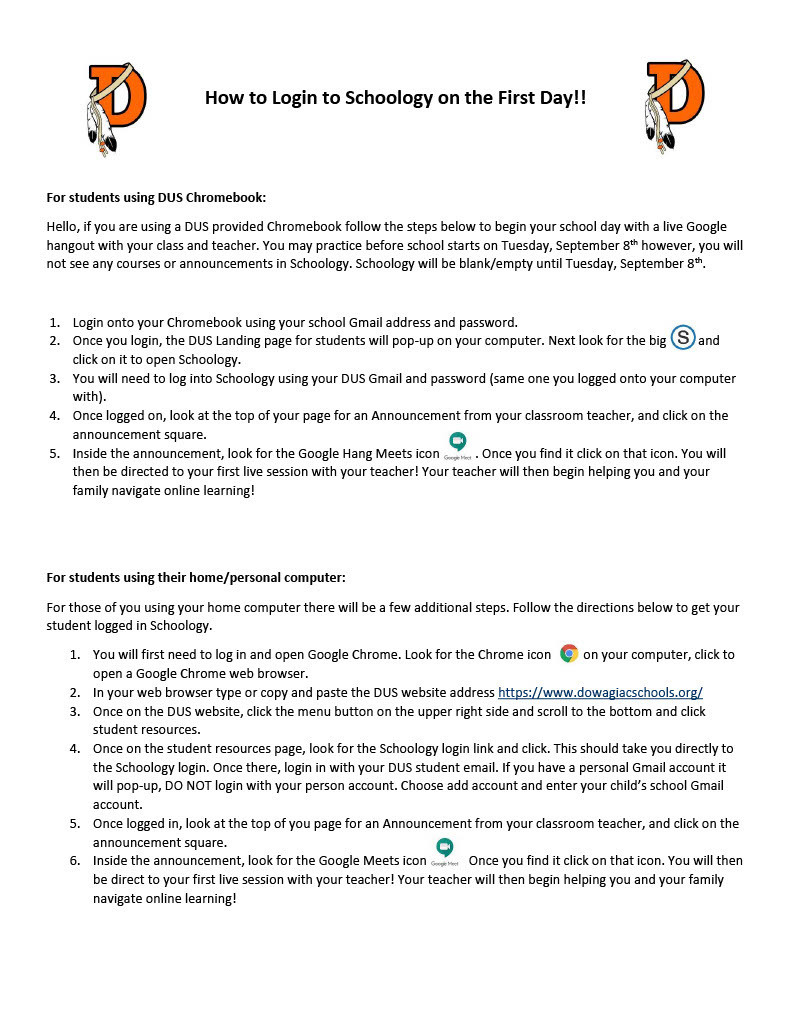 Dowagiac Community: Due to a recent resignation on the Board of Education, the Dowagiac Union Schools is seeking interested applicants to fill a vacant seat on the Board of Education. Applicants must submit a letter of interest to the attention of the Board President (mailed or delivered to Administration Office.) Letters must be received by 4 pm., on Wednesday, August 12th. If you, or someone you know, would be interested in serving on the Board of Education, please submit your letter of interest to the Board by August 12th. Thank you!