Parade Route for the Dowagiac Football Homecoming Game! The parade starts at 5:00pm!

Please have your child where our HERO shirt on Friday 10/8/21 for Orange and Black Day!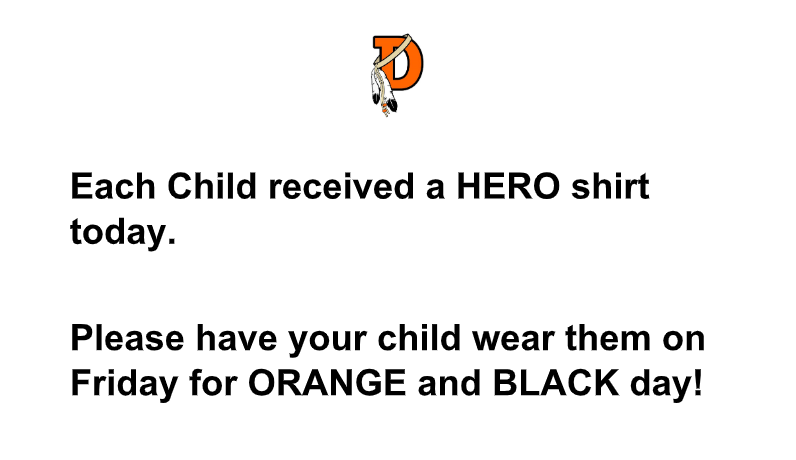 Daddy Daughter Dance Marion Magnolia Farms - Cass Sunday October 17th 4:00pm - 6:00pm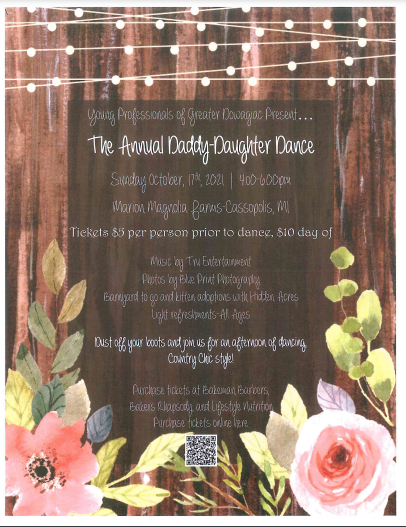 Spirit Week: October 4th - 8th. See the schedule below.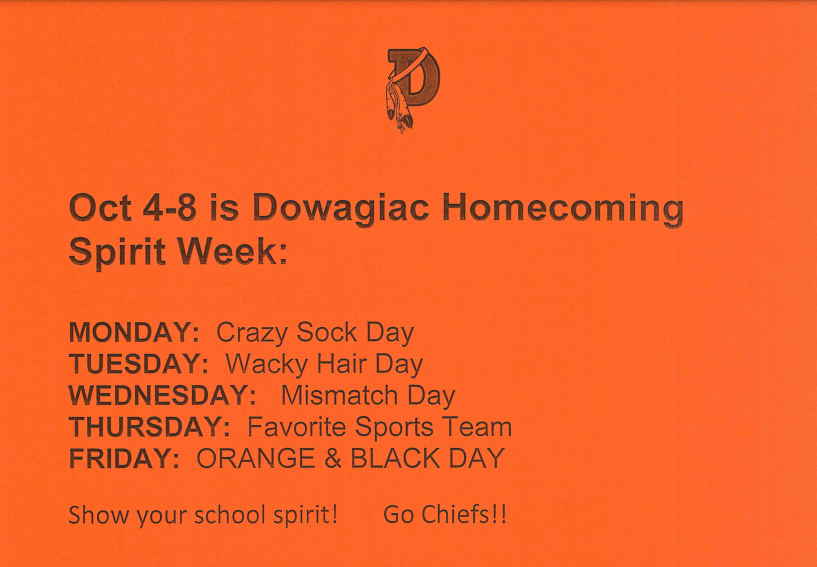 For car riders: For safety reasons, please only drop-off and pick-up in the green highlighted area in the back of the school near the playground. Para los conductores de automóviles: Por razones de seguridad, solo deje y recoja en el área verde resaltada en la parte trasera de la escuela cerca del patio de recreo.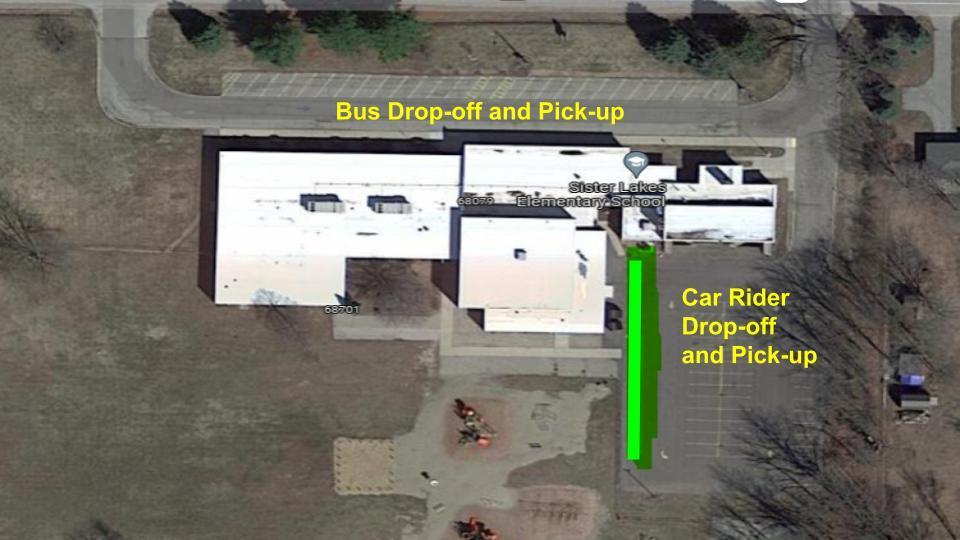 Clothing Give Away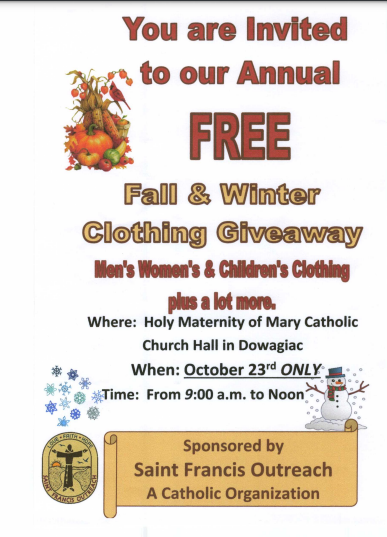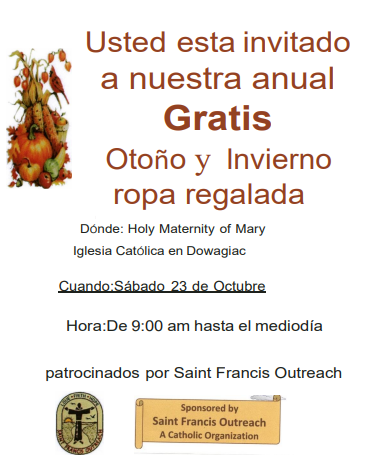 Picture Day is now Octorber 27! Día de fotografía ha cambiado NUEVA FECHA 27 DE OCTUBRE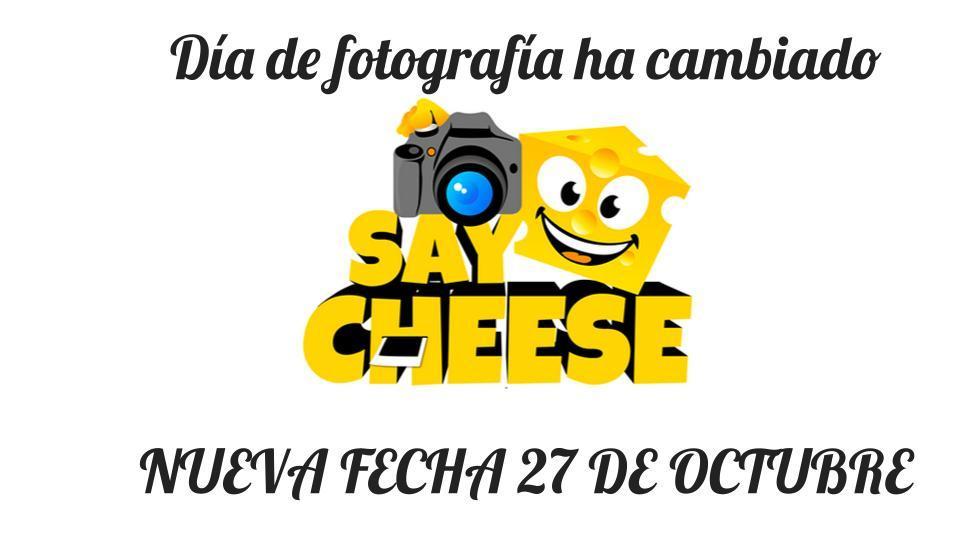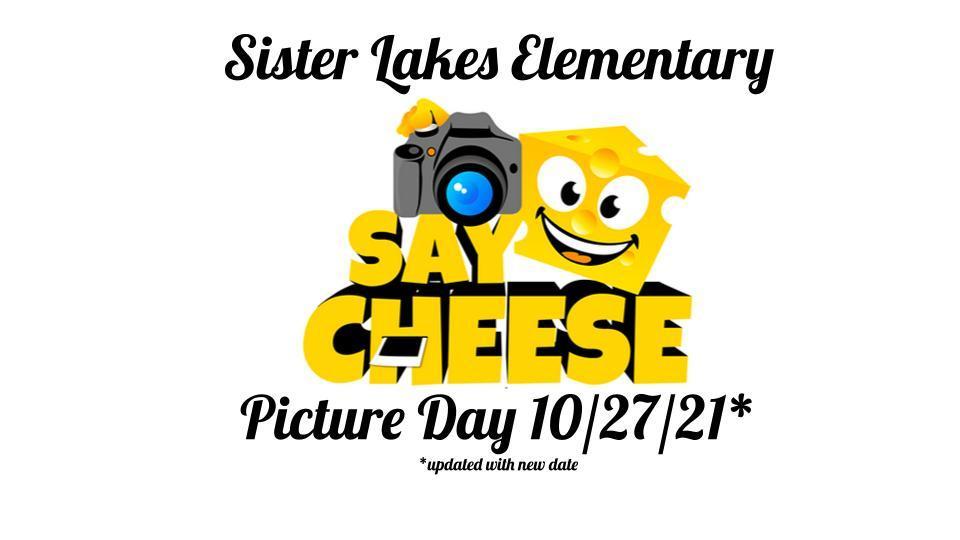 What: Sister Lakes Parent/Family Meeting When: Friday, September 17, 2021 9:00AM Where: In person at Sister Lakes or virtually online. P.S.: Don't worry if you cannot attend it will be recorded as well.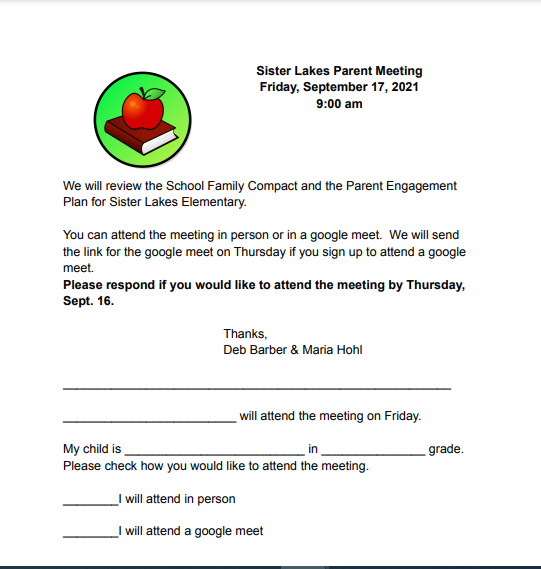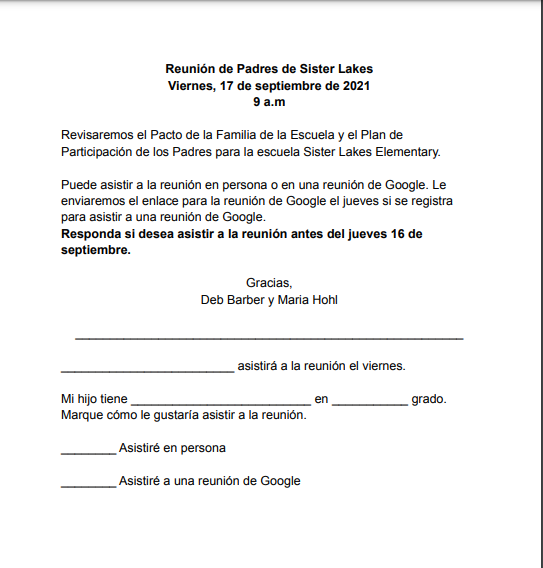 Fundraiser ends this Friday 9/17/21

Hello Sister Lakes Families! These are the new start times beginning Monday 9/13/21. Bus stops will be picking up 10 minutes earlier. ¡Hola familias de Sister Lakes! Estas son las nuevas horas de inicio a partir del lunes 13/9/21. Las paradas de autobús recogerán 10 minutos antes.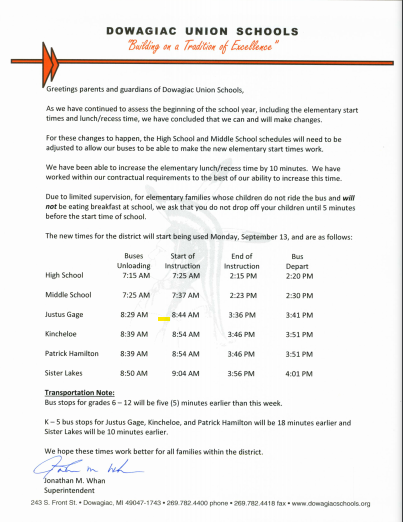 No School 9/3/21 & 9/6/21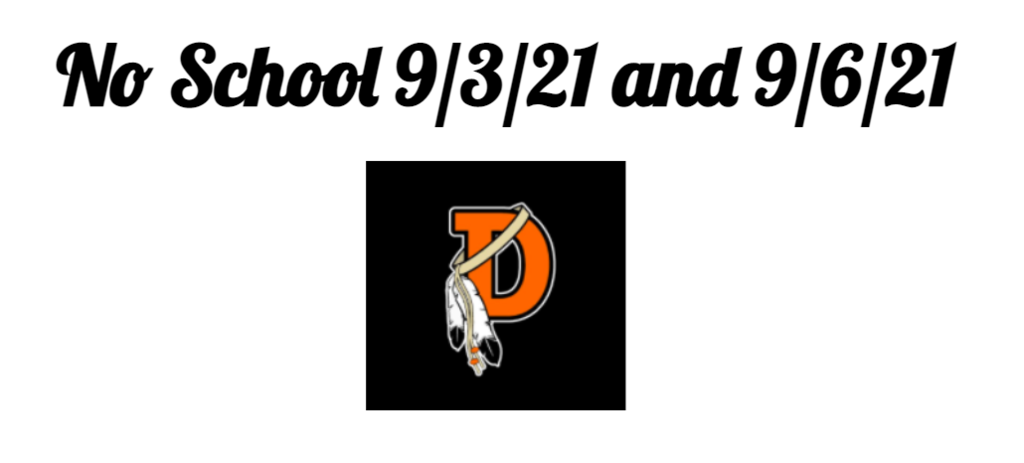 Hello Sister Lakes Families! Important new times are listed below! Student Drop off Time: 8:58 am Breakfast: 8:58 am School Starts: 9:13 am Student Pickup Time: 3:55 pm Buses leave school: 4:00 pm School Starts Monday August 30th! We can't wait to see you all! ¡Hola familias de Sister Lakes! ¡Estos son los nuevos horarios! Hora de de empezar de los estudiantes: 8:58 am Desayuno: 8:58 am Inicio de clases: 9:13 am Hora de salida del estudiante: 3:55 pm Los autobuses salen de la escuela las 4:00 pm ¡La escuela comienza el lunes 30 de agosto! ¡Estamos ansiosos por verlos a todos!


Hello Sister Lakes Families! Open House is Wednesday August 25!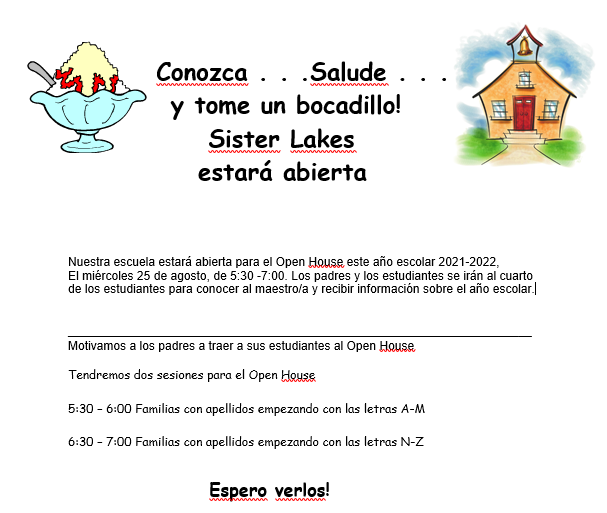 Letter from Superintendent Whan with information for the upcoming 2021-22 school year. Click this link to view:
https://5il.co/wl5b

Kindergarten Round-up for 2021-22 for Sister Lakes Elementary Who: Sister Lakes Elementary Families of incoming Kindergarteners When: August 19th and 20th Where: At Sister Lakes Elementary We will set up appointments for families who have already submitted information as well as any new families. Please contact Sister Lakes Elementary after August 9th if you should have any questions. 269-782-4468.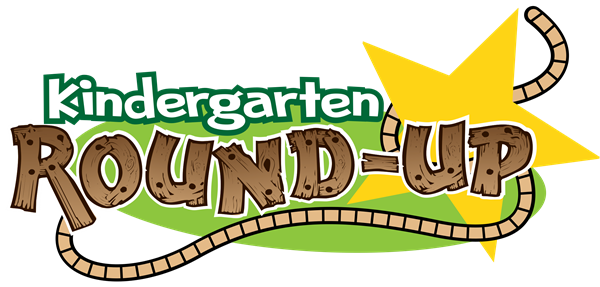 Desktop computers for sale! If you are looking for a one of our used desktop computers there will be one more opportunity to secure yours. Wednesday July 21 from 9am-noon at the Autoshop Building. Cost is $25 for a complete desktop unit (computer, monitor, keyboard, and mouse). The supply is limited. Call 269-782-4477 with any questions.

Pre-registration is now open for School Supply Spectacular 2021! United Way of Southwest Michigan is proud to partner with businesses and organizations in Cass County to present the School Supply Spectacular. This annual event provides backpacks with age-appropriate school supplies to students living throughout Cass County. Receive a FREE Backpack filled with age-appropriate school supplies. Backpacks will be available, pre-registration required, to Cass County children (pre-K to 12th grade). Children must be present in order to receive a backpack and must be accompanied by an adult. This event is for students residing in or attending schools in Cass County only and is intended to serve those families in Cass County who are experiencing financial hardship and are not able to afford school supplies and backpacks for their children. Pre-Registration is required at
https://www.uwsm.org/school-supply-spectacular
Event Dates: Wednesday, August 18 10 a.m. – 12 p.m. Marcellus High School 303 West Arbor St, Marcellus Saturday, August 21 10 a.m. – 12 p.m. Brookside Learning Center 61662 Dailey Rd, Cassopolis

Reminder: Dowagiac Summer School will be closed Monday, July 5th in observance of Independence Day. We hope you have a fun and safe holiday weekend. Sincerely, The Dowagiac Summer School Staff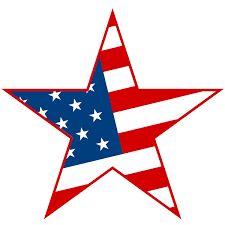 Attention all current Dowagiac Elementary Summer School students and families! Dowagiac Elementary Summer School is currently taking place at Patrick Hamilton Elementary School. The program runs Monday - Friday 8:00 - 12:45. Session 1: June 21 - July 16 Session 2: July 19 - August 13 For the maximum benefit we strongly encourage students to attend both sessions and five days a week! Please call 269-782-4450 with any questions.